You are here:
Home
/ Archives for Social Media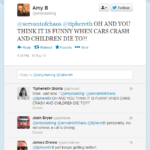 Yesterday I wrote about the importance of reading mean tweets. It's a post about the rough and tumble nature of online conversation and what can happen when you step out into the gaze (and full throttle voice) of the social web. And then today, almost on cue, comes what BuzzFeed calls the most epic brand meltdown on Facebook ever.
It began with an appearance on Gordon Ramsey's reality TV show, Kitchen Nightmares. As you can see from the footage from the show, the episode did not play well for the owners of Amy's Baking Company Bakery Boutique & Bistro in Scottsdale, Arizona.
No doubt, BuzzFeed did a great job of amplifying an already hot story. But a story can only take you so far. It needs to be stoked. Fed. It needs to be cultivated, fanned and coaxed to become a raging fire.
And that's exactly what is continuing to happen.
With each comment on Reddit, Yelp or even BuzzFeed, for every tweet and mention on Facebook, owners Samy and Amy step into the breach to fan the flames of this conversation. They continue to take brand experience to a new level with each and every comment or tweet. Take a look at some of the Facebook comments and conversations captured on the BuzzFeed page by way of example.
I am always fascinated at the way that people behave under pressure. Some deal with scrutiny gracefully. But not all of us are able or willing to. And I admit, I was drawn to this unfolding drama … to the flaming tentacles that lashed at every passing message. And then suddenly, the kraken appeared and I became part of the story. A small moment where the story was not part of someone else's drama, but part of my own.
And I must admit I was a little flattered. To be singled out here, on the other side of the planet, for my limited cameo appearance. But all jokes aside, there are salient lessons here – not just about social media, crisis communications and brand management.
What intrigues me is that certain point where the social media experience eclipsed the brand experience.
I can already imagine this restaurant becoming a Mecca for an inverted kind of customer experience where diners choose to expose themselves to the Samy and Amy experience unplugged. It has happened before and can happen again. But maintaining this level of performance comes with a cost. And there are precious few who can continue to operate at that level indefinitely.
Where will this go? Who knows. But it is a brand performance that few will forget in a hurry.
Are you an executive stepping into the world of social media? Are you a leader learning to tweet? Or are you in charge of a social media account or community site for a brand? If so, you may have experienced a flurry of mean tweets. And by "mean" I nasty.
Mirror, mirror on the wall, whose brand is fairest of them all?
You see, for decades, we have all been living the life of the Evil Queen, viewing the world through the wonderful frame of our very own magic mirror. We frame the question. Ask it. And wait for the adulation to return. And in a world where every question, all "market research", surveys, ratings, reports and so on can be framed by our own perspective, we've lived a relatively sheltered life.
But the moment we step into the world of social media, the Magic Kingdom disappears. In the real world of 21st Century marketing, there is no Fairy Godmother. You are known – and become known – for your good works and bad, your efforts and your laziness.  You are what you tweet. It's what I call the "4 BEs".
You want to be found, known, trusted and successful. Many of us, however, fail on one of these counts. Especially in the early days of our social media journey.
Now, no doubt, you will have heard the cliche that social media is a marathon not a sprint. And like most cliches, it is based on a deep truth – you cannot build a relationship with anyone – a customer, a friend, a partner or supplier – without investing in that relationship over time.
And it is with this in mind that I would encourage you to step out from behind your own magic mirror. Read some of the tweets that are sent your way. Read them out loud. To your teams. Think about the impacts that they make. Is there a truth? Or are there always going to be haters?
Take a look at the way celebrities respond to some of the nasty tweets sent their way. Notice how, when spoken aloud, some of the nasty tweets lose their impact?
Reading the mean tweets will prepare you for what will follow. For no matter how many white horses you ride, one day you're going to eat an apple meant for someone else. It's time to end the fairytale, but with some work, a decent strategy and a bit of luck, you may just reach your happily ever after.
THE END
I have been a fan of HubSpot for some time. I love the way that they relentlessly connect the dots between marketing and action, between marketers and their customers, and the web and the business of marketing.
Over the years, the HubSpot team have developed and driven the concept of inbound marketing – releasing free tools to help educate and empower marketers, sharing webinars, whitepapers and a constant stream of email messages. I'm not saying that, at times, the stream of content is not overwhelming … it can be. But the underlying message is what fascinates me – you are left with the unmistakeable impression that if the web is a new way of doing business, then HubSpot is leading the way.
But what makes this new breed of company tick? What happens when you scratch beneath the surface – and is it really any different from the businesses that we are used to dealing with?
With the release of the HubSpot Culture Code, we can gain a glimpse into the philosophies and policies that inform and activate their culture. They have rethought the old and newer ways of working around focus, support, working hours, workplace and tenure. And the culture code makes the point that while people have changed, "many organizations operate as if they're frozen in time". (In many ways, some of these concepts feel foreign, unexpected, like travelling to a place that is familiar yet different at its core.)
You can leaf through the culture code below or on Slideshare. As an organisation dedicated to transparency (radically and uncomfortably), it makes sense. But how many other businesses do the same? How many business could bring themselves to operate in this way?
They say it's to do with the care and attention with which they choose colleagues. And for a company that is hiring, the culture code is perhaps, the greatest advertisement there is. Nice work – inbound marketing at its finest, especially when you're aiming to attract people, not clicks.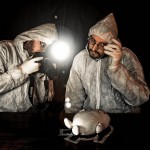 Brand storytelling can be hard work. Not only are there all the internal hurdles to overcome, sign-offs and legal checks and so on – there is also the challenge of subject matter. What do you do if you have a complex product or solution that you are trying to explain? Which channels do you choose – and how do you incorporate social media into the mix.
I was recently speaking with a financial services industry CEO who lamented that they have the most boring product in the world. He couldn't see how it would resonate with a social media-savvy audience.
But social media is not broadcast – especially in B2B (business-to-business) marketing. You're not trying to reach and engage millions of people – you are (or should be) focused on the buyer's journey and helping to ease your customer's decision making process. That means selecting the most appropriate channel – and delivering content that provides very specific value to your customer at their point of need. And brand storytelling can form a very powerful component of your content strategy and lead nurturing program.
Still unsure of how this might work for you and your brand?
Enterprise software vendor, Teradata, have been experimenting with brand storytelling for some time and have taken a novel approach that you may want to steal (I mean "learn from"). Tapping into pop culture's interest in forensic analysis (a la CSI), they have created a series of videos that take a new approach to case studies and product/solution brochures. The "Business Scenario Investigations" or "BSI" team dramatize business problems and then showcase how technology can be used to "solve" the problem.
Each of their videos can be found on the BSI: Teradata Facebook page as well as the YouTube channel. They cleverly provide a powerpoint version of the scenario via Slideshare and share the storyboarding process from problem definition to casting through to resolution.  And while the case of the tainted lasagna may not be to your taste, it's likely to be very appealing to those CIOs and CMOs wanting to understand how data can transform their businesses. And that's tasty. Very tasty indeed.
I have always been a fan of the CMO.com guide to channel selection. Each year for the last few years, the CMO.com folks have put together a handy guide that explains exactly how each of the main social media channels can be best used.
This year, rather than producing an infographic (as in previous years), the guide has become interactive.
You simply select a social network and mouse over the various good, ok and bad options to learn more about how they can be used effectively.
Unfortunately, the guide only covers Facebook, Google+, Twitter, Pinterest, LinkedIn and YouTube. Which is a shame, as marketers seeking to put their content to work are likely to find niche social networks will deliver more bang for the buck. However, if you just want to validate your tactics and share that with your boss, this hands-on guide to social media channel selection may be just what you need to share internally.
In these challenging times, we are all asked to do more with less. For marketers, this means coping with an explosion of channels, transformation in the expectations of our customers and an abundance of data that can, in equal parts,  obscure or facilitate insight.
So where can you turn to scale your marketing efforts?
The first generation of marketing automation software provided a great way to deal with an increasing volume of broadcast style communications. But in this digital – multi-directional world, marketers must be more responsive, engaging and yes, social.
My just released report, Scaling Up with Marketing Automation, provides a birds eye view of the marketing automation landscape, presents the key strengths and features of a range of vendors and examines how these solutions can help marketers do more with less. You can download a snapshot of the report here.
The Content Marketing Institute's new report on Content Marketing in Australia is timed nicely for the upcoming Content Marketing Conference (4-6 March 2013). The report contrasts the content marketing approaches taken by marketers in Australia vs the USA and reinforces much that we already know:
Over 60% of marketers expect to increase or significantly increase their expenditure on content marketing in 2013
Australian B2B marketers prefer LinkedIn as a social channel while B2C prefer Facebook
B2B marketers allocate higher proportions of their budget to content marketing activities than their B2C counterparts
A large proportion of marketers outsource content creation (B2C 74% // B2B 54%)
These findings, however, should raise alarm bells for CMOs across Australia.
Poor digital capabilities inhibit success. While 96% of Australian marketers use content marketing, the tactical choices favour traditional marketing channels with much lower levels of investment in experimentation and digital engagement. Marketers should set aside greater levels of budget to experiment and innovate around digital and social media. Training and workshop/conference attendance  should be provided to help more traditional marketers to transition their skills.
Weak digital strategy delivers weak outcomes. Weakness in digital strategy is seeing a misalignment between content marketing objectives/focus and measures of success. Marketers should draw upon skilled digital practitioners beyond their organisation (and even their industry), to begin to correctly align their business and marketing strategies.
Conservative channel choice cripples engagement. Marketers the world over are challenged to create engaging content, yet continue to focus on non-digital channels which produce high-levels of engagement. Again, experimentation is vital. Also, look to pure-play agencies to bolster internal skills for particular marketing programs – for example, work with a social media agency on a social media project, bring in a digital experience expert to reinvigorate the online customer experience.
Lack of effectiveness is undermining confidence. Content marketing effectiveness levels remain abysmally low, undermining confidence in marketers and the work produced by their agencies and suppliers. After correctly aligning strategy (as noted above), marketers should build metrics and analytics dashboards to report on effectiveness. Investigate options from companies like Anametrix.
Executive buy-in to content marketing needs to be revitalised: Connecting results with effort will give marketers the tools to gain buy-in from their Boards and from senior executives. Investments in analytics and reporting software that aggregates multi-channel data should be prioritised.
The detailed report appears below.  Remember to check out the Content Marketing Conference, using the code CMI200 will save you $200 when registering.
We have lived for many years with the illusion of control. We believed that we could:
Control the experience of our brand
Manage the way our brand was represented
Dictate the messaging people used when discussing our brand
To administer this, and to reinforce our sense of ownership of our brand, we created processes, guidelines and tools of management that enforced consistency, clarity and style. We measured our control in pixels and pantone colours. And we sat at our desks in the contented glow of our three ring binders, style guides and brand books.
And because we controlled the medium in which our brands were discussed (or at least paid large sums to those broadcasting our messages), we came to see this belief in control as truth. This, in time, made us happy.
And then along came the web. It was billed as a levelled playing field but it was really a simulation of what had gone before – the means of publishing production remained centralized, controlled and administered. But a new power was created. The ascendency of the geeks was underway and the promise of the world wide web remained tantalisingly close – veiled behind layers of code and techno-speak.
It was not until the advent of the social web that publishing, distribution and creation was democratized (of course, consumption is another question). Now, anyone with an internet connection (yes, even mobile), can engage in the publishing process.
This social media free-for-all remains a challenge for many brands. In fact, despite Australian audiences ranking amongst the most avid consumers of social media platforms like Facebook and Twitter, many companies still tread warily around the edges of social without a clear strategy to engage, participate or simply listen.
But for every story of risk and corporate fear, we also see celebrations. For whether we like it or not, our customer use the products and services we create – generating unique experiences and amazing results.
Look what happens when high school student Melody Green produces a video documentary of her school science experiment. Not only does she tell the powerful and exciting story of a young girl learning about high altitude science (should be more of it) … it generates story after story:
Getting behind this kind of momentum is a brilliant move by GoPro and the High Altitude Science folks. It's a great example of what can happen when you do let your customers tell the story of your brand. But it's amazing what happens when you not only let that story be told, but you actively promote that as PART of your brand.
Just think … you could do that too. Today rather than obsessing over the negative, shine a little light on the great things your customers say. It might just amaze you.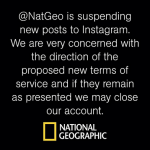 Remember when Flickr was cool? It has the no-brainer business model of $25 per year, in-built community functions like sets, groups and connections, and it helped manage copyright through various licensing arrangements. And the open API meant we could do cool things like
But then it lost its way.
Yahoo! stopped telling us about what they were doing and why. The diehards continued to post their images to Flickr but many others, attracted by easy-to-use apps, newly emerging and vibrant communities and a hipster ethic switched to Instagram, or Path or even to Twitter to share their photos.
When National Geographic suspended their Instagram account, it got serious
Over the lasts couple of days, I have written a couple of pieces analysing Instagram's change of terms. It would be naive to think that Instagram did not expect a backlash of some sort, but by dumping the early adopters, they are opening the door to a more mainstream audience. The backlash then becomes a form of earned media, creating a social media news story that jumps into mainstream news consciousness.
Of course, the beatup around photo ownership is actually not about intellectual property – but about the influence we each hold within our social networks. Social judgement's a vital and highly prized element in a digital campaign, and the change in terms from Instagram opens the door to a level of granular automation that perfectly compliments the shift to real time bidding and automated digital ad targeting via systems like Facebook Exchange.
But when big brands who have made a significant investment in building communities within Instagram take a stand, it's time for the rest of us to take note. National Geographic's single image announcement boldly features on their Instagram page – making it clear that the terms of use scheduled to take effect in January were not to their liking.
Next step – migration – Google+ or Flickr?
Now at this time of year, we can expect people to be taking MORE not less photos. And we will be wanting to SHARE them with our friends, families and random social network connections more than ever! So what is one to do? The obvious suggestion is to migrate photos to another service, close your Instagram account and find a new network for your photos.
Google+ has been recommended by some, with its Picasa-based system. But Google has yet to crack the non-tech feel to most of its systems and this is a major barrier to entry for the average non-tech Geek. My choice would be Flickr – and as I have a long standing account, it's really a non-contest.
Free your photos
If you want to follow me over to Flickr, you can do so using this great new site – free your photos. It takes the pain out of the download and upload process.
Visit freethephotos.com
Visit Instagram.com and login
Visit Flickr.com and login (these steps make it easier)
Login and authorise your Instagram account
Login and authorise your Flickr account
Click the Free Your Photos button
It takes a while, but you can set the site to email you when the process is complete. Then it's just a matter of using the bulk management tools on Flickr to sort through and arrange the images.
But is there a replacement for my Instagram app?
And of course, if you are looking for an alternative iPhone app to Instagram – one with filters and auto uploading etc, Flickr have just released one for iPhone and one for Android. There are also dozens of community sourced Flickr apps for Android available here.
Marissa Mayer will be loving Instagram's early Christmas bonus
Judging by the number of new connection requests coming through from Flickr, it would appear that there is some shift already taking place amongst my network. Our natural inclination is to establish trusted connections within a new network early. So not only does Flickr benefit from new members, those members are bringing their community strength with them.
Instagram may have unwittingly delivered an early Christmas present to Marissa Mayer at Yahoo! But let's see what the new year brings.
HT @JohnHaydon